B Stigma-Free was a national non-profit 501(c)(3) organization that helped create a kinder society so people with differences are accepted, respected and included for who they are; Through Cross-Identity Collaboration™ we partnered with stakeholders to educate and engage the community to reduce bias and prejudice. Loretta Jay was its co-founder and Executive Director.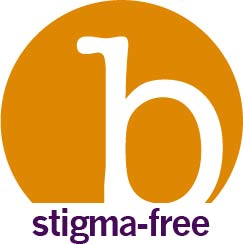 Stigma is a pervasive problem impacting many identities. It degrades, destroys dignity and self-esteem, marginalizes and compromises the happiness and quality of life of those oppressed and judged. Its consequences are far-reaching and include bullying, shaming, and isolation that act as major barriers to one living a full and meaningful life. Resultant violations of basic human rights including poverty, impaired social relationships, difficulty achieving competitive and integrated employment and housing, inadequate healthcare, discrimination, and self-stigma. Negative attitudes about people who are different permeate our society. Policies and practices by public officials, whether they are politicians, policy makers, police officers, or other public servants, are influenced by personal stereotypes and public opinion.
Existing efforts to combat stigma are largely unsuccessful as they are segmented by identity and reach like-minded people; because groups and organizations focus on singular identities, their constituencies already "get it." They are preaching to the choir. While there are many non-profit organizations that represent different stigmatized identities, none is addressing the intersectionality between them. Overcoming "competition" between stigmatized groups is challenging. For example, while the affects of institutional racism cannot compare to that of fat-shaming, they share a common root cause: fear and a lack of understanding. Further, research (Shapiro and Neuberg 2008) tells us that people who are stigmatized stigmatize as an effort to avoid being targeted for discrimination. Efforts focus on establishing empathy in order to help people better relate to one another so all people are valued.